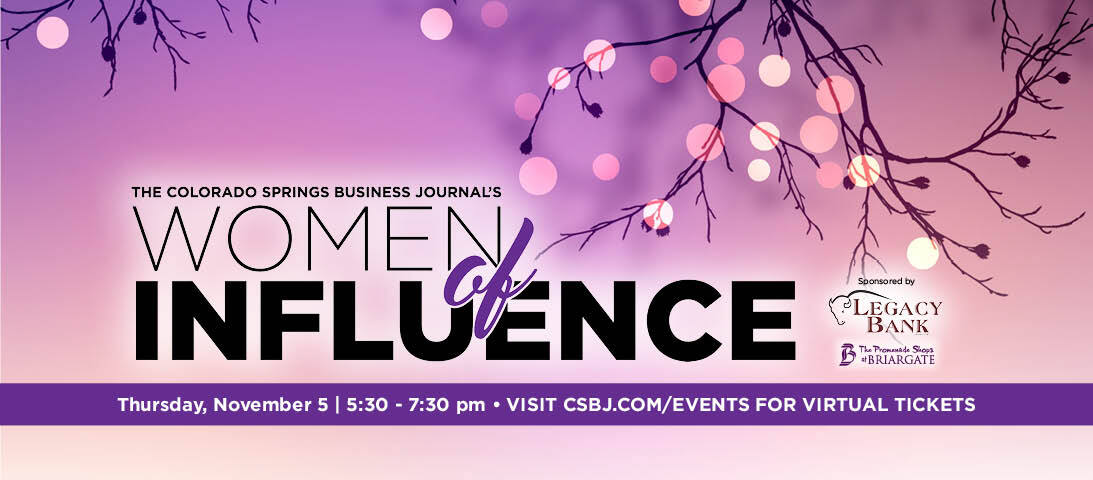 2020 Women of Influence (Virtual)
Thu, Nov 5 from 5:30pm - 7:30pm
General Admission - Virtual
On Thursday, November 5 from 5:30-7:30 pm, join the Colorado Springs Business Journal and Legacy Bank-Colorado virtually as we celebrate 2020's Women of Influence.
For the first time ever, we will be honoring 15 local women who are creating a legacy of leadership in the Pikes Peak region through positive change as well as our Legacy winner.
We also have 5 previous honorees who each will speak for five minutes about leadership and resiliency:
Stephannie Finley Fortune, 2017 Legacy honoree
Susan Edmundson, 2018 Legacy honoree
Kristen Christy, 2019 Legacy honoree
Rosenna Bakari, 2016 WOI honoree
Amanda Mountain, 2012 WOI honoree
Your virtual ticket will include an online version of the event, where each of this year's Women of Influence will briefly speak after being recognized and the 5 guest speakers, as well as a digital swag back that includes special offers from this year's amazing sponsors and online networking.
Please join us in congratulating this year's Women of Influence class:
Cory Arcarese
Dr. Debra J. Dean
Yolanda L. Avila
Dr. Detra Duncan
Susan Wheelan
Patricia Yeager
Shelli Brunswick
Ellie Red Cloud
Jessie Pocock
Dr. Stephany Rose Spaulding
Carrie McKee
Erin Miller
Amy Long
Patricia Cameron
Legacy honoree: Laura Neumann
Ticket holders will be sent a link to attend within 24 hours of the event start time.